Baku Expo Exhibition and Convention Center
Baku Expo Exhibition and Convention Center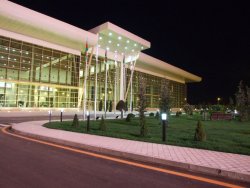 Address: Heydar Aliyev avenue, Surakhany district, Baku, Azerbaijan..
Description:
International Exhibition Center.
Modern exhibition venue, Baku Expo Center is designed and built in accordance with international excellence and purposed for hosting exhibitions and conferences of international standing. Baku Expo Center has a range of advantages for visitors: well-developed infrastructure, communication service, cafe, parking lot and many other services. It was opened in June 2010. The space of the most modern exhibition complex in the region is 33800 sq. m. Also the complex provides conference halls which are specially equipped for hosting of congresses, conferences, seminars, presentations.
---
Transport
How to get:
From the metro station "May' 28" - є 36
From the metro station "Ulduz" - є 87
From the metro station "M. Azizbekov" - є 24, 50, 101, 160 171
From the metro station "G.Garaev" - є 24, 160, 171
From the metro station "Neftchilar" - є 341
From the metro station "Khalglar Dostlugu" - є 313
From the settlement Mardakan - є 24, 36, 77, 341