IEC "Crocus Expo"
IEC "Crocus Expo"
Address: Russia, Moscow region, Krasnogorsk district, Krasnogorsk, St. Mezhdunarodnaya, 16, 18, 20.
International exhibition center "Crocus Expo" - one of the largest and most modern exhibition venues in the world, a member of the global Association of the exhibition industry UFI in categories of "Exhibition Organizer" and "Exhibition centre".
The high status of the complex confirmed a large number of Russian and foreign partners. The possibility of "Crocus Expo" allow to carry out events of any scale and purpose: industrial exhibitions and international salons.
"Crocus Expo" - is a multifunctional business arena for major international and national exhibitions, conventions and other large-scale and significant events. The exhibition area allow to adapt facilities for projects of any size and complexity.
Closed area: 701800 sq.m
Outdoor area: 219000 sq.m
Parking spaces, free Parking: 35500
Exhibition halls: 19
Conference halls of the Crocus Congress Centre: 49
"Crocus Expo" today is over 900,000 sq. m on which are located the three pavilions which are united by covered walkways, exhibition and conference halls, indoor and outdoor free Parking, customs office perform customs clearance directly on the territory of "Crocus city". Located in hall 3 of the hotel "Aquarium Hotel"*** 225 rooms and provides comfortable accommodation for guests close to the exhibition grounds.
"Crocus Expo" is the largest organizer of exhibition projects, well-established among Russian and foreign specialists. Exhibitions of their own programs cover a wide range of subject areas: automotive, transport and road-building industry, yachting, environment, light industry, medicine and ophthalmology, tourism, advertising, electronics, Hobbies and many others. Visitor audience is characterized by the broadest possible scope - from highly specialized professional to the mass. The project portfolio is annually updated, and existing exposure does not cease to evolve, adapting to modern trends with fresh ideas.
In the "Crocus Expo" annually hosts more than 350 events (exhibitions, fairs, conferences and symposiums, corporate parties and sporting events), and the number of visitors to exceed 10000000 person per year.
---
Transport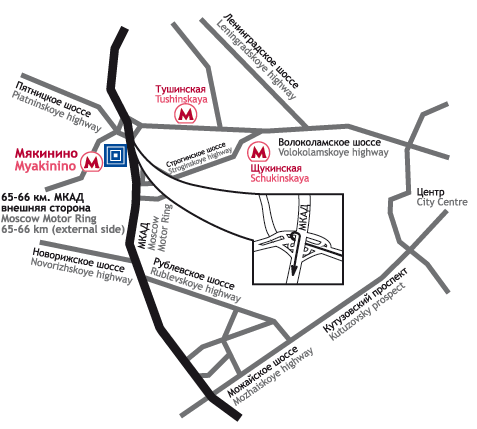 Directions:
By car:
- On the outer side of MKAD (66 km) - exit to the territory of "Crocus city" after the Volokolamsk highway sign "Crocus city".
- On the inner side of MKAD (66 km) - exit under the bridge before the Volokolamsk highway sign "Crocus city".
By public transport:
- Metro station "Myakinino" - outputs to the Pavilion 3 or to the territory of "Crocus city".