EXPOFORUM
EXPOFORUM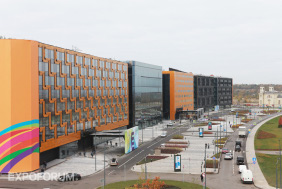 Address: Russia, Saint-Petersburg, Petersbourg rd., 64/1.
EXPOFORUM - International Convention and Exhibition Centre.
EXPOFORUM is situated close to Pulkovo International Airport, at the highest point of St. Petersburg - Pulkovo Heights, which offers a unique panoramic view of the city. The complex covers an area of more than 56 ha. It boasts advanced infrastructure, allowing it to host any event.
Multifunctionality is the main advantage:
Exhibitions up to 50,000 sq. m gross
Concerts up to 10,000 pax
Sport events up to 5,000 pax
Conventions up to 8,000 pax
Banquets up to 6,500 pax
Convenience and comfort for visitors:
Free bus from Moskovskaya and Kupchino metro stations
Parking - 4,700 parking spaces
Covering passage between the pavilions and the congress center
Mobile wardrobes
Variety of cafes and restaurants
Two hotels of the Hilton hotel chain
Turnkey service package for participants and organisers of events:
Exhibition space without columns with extensive engineering communications network
Design and construction of the exhibition stands and expositions
Rent of furniture, audio and video equipment
Transportation-forwarding and customs services
Catering facilities
Congress-management
Tourist services (booking of air and railway tickets, hotel accommodation, cultural program)
Advertising arrangements, holding promotion events
Design and polygraphic service
Key features:
Exhibition pavilions - 3
Indoor exhibition space - 40,000 sq. m
Congress center (main hall) - 4,200 pax
Conference halls - 45 (20-2,000 pax)
Total capacity of all congress center halls - 10,000 pax
HILTON ST.PETERSBURG EXPOFORUM и HAMPTON BY HILTON SAINT PETERSBURG EXPOFORUM hotels - 447 rooms
Business center (two buildings) - 25,000 sq. m
Customs and logistic facility - 60 container lorries
Outdoor parking - 4,700 parking spaces
---
Transport
How to get there by public transport:
From the metro station "Moskovskaya":
- free bus "Expoforum", stop at the house at 197 Moskovsky Prospekt, (traffic interval - every 15 minutes)
- bus є 187A (municipal bus), traffic interval - every 18 minutes